PATERSON, NJ | For decades the companies which comprise The CLI Group have been making coated and laminated products, as well as helping their clients with product development in their pilot facility. An integral part of their process lines is web spreading and lay flat technology provided by polyband expander rolls. When one of their lines was in need of a new spreader roll, Paul Harencak, Vice President and General Manager, knew just who to call, Lemtech International, Inc.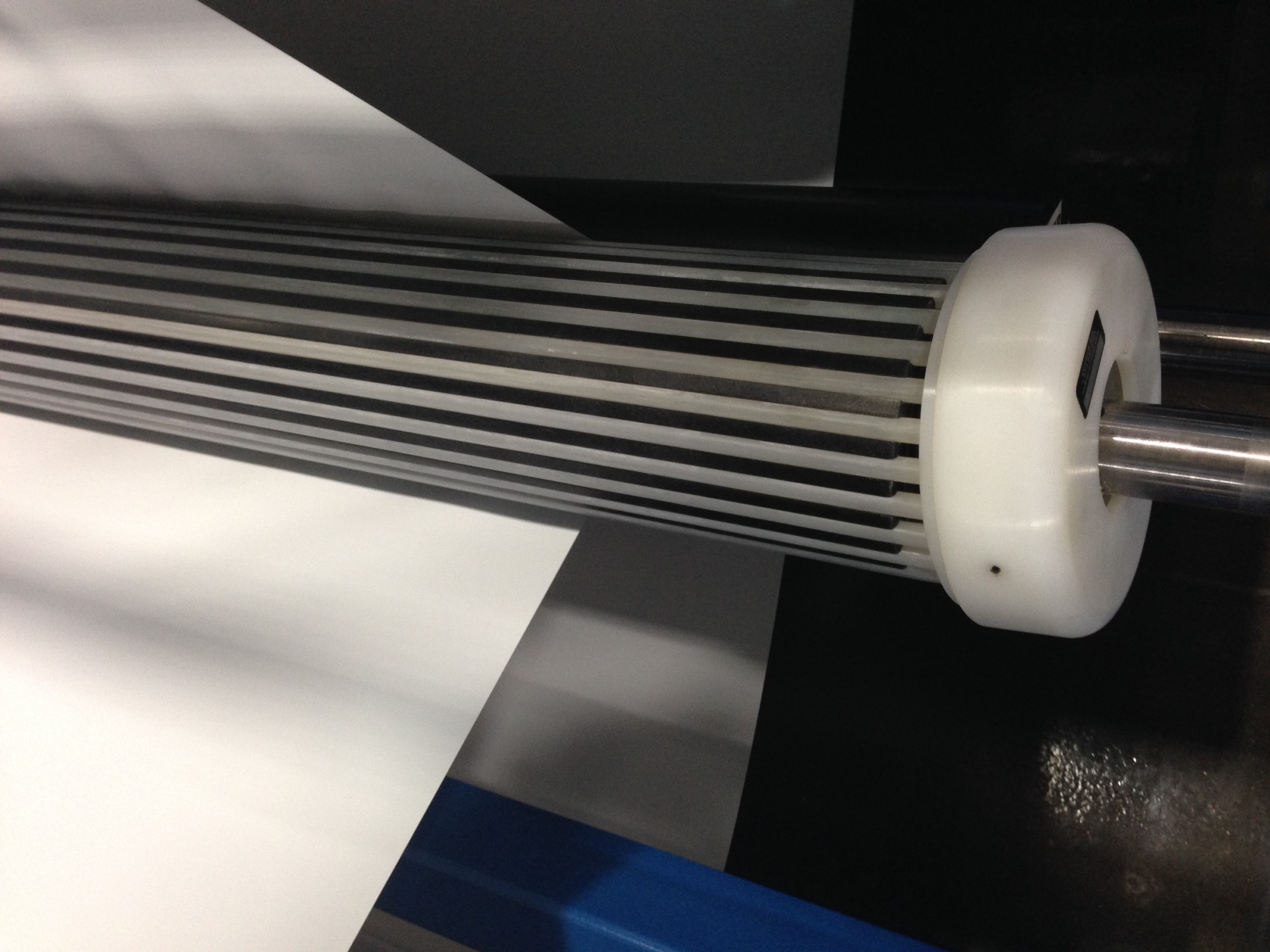 "The products we run can be difficult to handle, and the spreading action provided by the Lemex expander roll gives us the ability to run these materials and achieve good quality coatings and laminations," says Harencak.
The Lemex Expander roll is fabricated from an anodized extruded aluminum shell and a series of individual elastomeric bands which run across the face of the roll. These bands are connected to cams on each end which provide the web spreading action as the roll turns. Positioned correctly in the web path, the substrate will hit the expander roll where the bands are at their contracted position and exit the roll where the bands are extended, creating a maximum spreading effect across the substrate. The amount of spreading can be adjusted simply by changing the location on the roll in which the web enters and exits.
The Lemex is commonly used in printing, laminating, coating, slitting, extrusion, embossing and calendering process line applications, but is also used in other less conventional converting equipment lines. Essentially, the Lemex is used in any application in which web wrinkling is a problem. The Lemex is installed in the equipment line just like a typical dead shaft idler roll and can be mounted wherever you are experiencing wrinkling problems. Many people use them immediately before coating, laminating or winding processes, at the most critical points prior to a value-added operation to ensure a flat web entering the critical components of the web line.
The CLI Group is always looking to develop new processes and products, and based on the performance of the Lemex, they are open to trying the Lemex in those applications. "Polyband expander rolls are quite versatile with the number of substrates on which they are effective," says Francine Lembo of Lemtech International. "We recommend the Lemex for a variety of webs, including but not limited to acrylics, polyethylene, polyester, polypropylene, vinyls, cotton, knits, rubber, foams, and synthetics. Additionally, we are happy to send out a demo roll for applications in which we have limited experience or the client needs to witness the rolls performance prior to purchase."
In most applications the Lemex can be run as an idler roll. However, in low tension applications with delicate materials, the Lemex can be provided with a drive pulley for connection to a VFD.
"We are really excited to be working with The CLI Group on this wrinkle removal application," says Lembo. "Given the strength of their organization and commitment to growth, we anticipate more opportunities to work together in the near future."
About Lemtech International Inc.
Lemtech is a global enterprise focused on providing polyband expander rolls for the web handling industry. We have a great deal of experience with wrinkle removal in coating, laminating, calendering and embossing systems. Our customer base spans most industries which handle materials in a roll to roll fashion. Learn more about Lemtech's capabilities on our website www.webspreading.com or follow us on twitter @webspreading.
About The CLI Group
The CLI Group converts textiles, nonwovens, papers and films into custom-engineered products and materials. In 2008 we brought our four divisions together under one corporate umbrella called The CLI Group consisting of Custom Laminations, Lamin8, Think Big Digital Printing and Dasco. Our unique business brands have developed over the past 50 years.